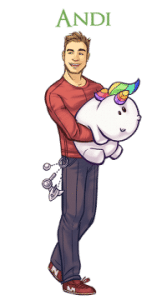 "Why don't you learn something proper first, boy?" Nope, that was not the first sentence I heard after my birth. That came later. I was born on 21st March 1982 in Landau, a city in the southeast of Germany. According to corresponding statements from several family members, a return was demanded due to the constant and enormous noise level radiating from this little 'bundle of joy'. "Mommy, can't we give him back and get a puppy instead?"
Thankfully, shop policy states: No returns! Thus, a happy childhood ensued followed by turbulent teenage years. Of course, I won't spill all the details here. For one, that would ruin the arc of suspense. Also, there wouldn't be much left for my memoirs.
"An experiment turned failure – big time"
So, let's concentrate on the essentials. Of course, it is every parent's heartfelt wish to animate their offspring to read. No sooner said than done! – "Treasure Island" was placed under the Christmas tree. An experiment turned failure – big time! Pirates? Treasure hunt? Nope. They had better luck on the second try though, a thick blue volume. I am talking – of course – about a Perry Rhodan silver edition volume, which was published as a special edition with a blue cover. In short, my love for Science Fiction was born. Naturally, at that time, I had no idea what a dime novel series was. After all, I had a massive book right in from of me. It was only years later, that I discovered the Perry First Edition and realised, woah, these things are published weekly! Shortly afterwards, I discovered another dime novel series I first came across as a book. I'm talking about "Professor Zamorra – Der Meister des Übersinnlichen" ("Professor Zamorra – Master of the Occult").
"… no filler episodes, no side plots …"
1980s and 1990s television was dominated by a very procedural narrative style – meaning that every week, the plot focused on one self-contained case. This changed more and more in the following years when streaming services started out, which meant that viewers could catch up with missed episodes. The industry was in dire need of this change and I was jumping for joy: no more filler episodes, no more side plots to prolong the storyline. Instead, fast-paced, lively narrative styles with cliffhangers and a close-knit web of plot points. Notice something? "Heliosphere 2265" and "Ein MORDs-Team" readers are hopefully nodding along with a grin on their face right now.
"… same as playing the lottery …"
But first things first. So I applied for work with Bastei, the Sci-Fi series "Sternenfaust", to be exact. Same as playing the lottery, though, you never really expect to win. It didn't take me long to create an extract, the first few pages and an exposé for a story. Anyway, I was sitting at Fraunhofer Institute one day, doing my research assistant job, pottering along, when suddenly an email popped up. Looking back, the few hours that followed are drowned in a sea of endorphins, adrenaline and mad giggling. Thomas Höhl, "Sternenfaust"'s editor at the time, invited me to write a novel. He didn't want my story idea as the introductory novel however, but rather for the following plot section, which then became part of the Gemini Cycle! I am still surprised I didn't go off like a rocket in my excitement (literally!). So, I wrote my first novel, which – Thank the Lord! – was received quite well by the other fans. I ended up writing another 7 ½ novels for the "Sternenfaust" universe. One of which (the Cycle kick-off) was co-written by Thomas – hence the ½.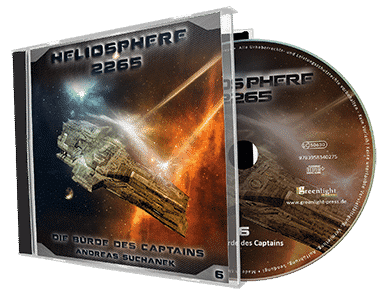 "… all my eggs in one basket?"
But all good things must come to an end. I was in the middle of writing "Alte Bekannte" ("Old Acquaintances"), when I learned the news that the "Sternenfaust" series was cancelled. Coincidently, I had just graduated but there were no IT jobs in sight. I was confronted with the question: Keep trying my luck applying for IT jobs or put all my eggs in one basket now? In the meantime, I had also applied for work on "Professor Zamorra" and "Maddrax, die dunkle Zukunft der Erde" ("Maddrax, earth's dark future") and been accepted. Of course, there was no way – if I were to start a full-time IT job – that I could deliver such a workload at the same time. Well, I did put all my eggs in one basket and created "Heliosphere 2265".
"… always deliver on cliff…"
The characters, the worlds, the whole series cosmos. Indeed, I wanted to operate exactly the same here as I have always wanted series to be as a fan myself and how it is common practice in TV at the moment. Hits like "Scandal", "How to Get Away with Murder","Person of Interest" (in its later seasons) as well as mystery hits like "Vampire Diaries" and "The Originals" are mostly serially structured and always deliver on cliffhangers. I wanted the same for "Heliosphere 2265". In the meantime, I kept on writing for "Professor Zamorra" and "Maddrax", met fantastic new colleagues and became part of these gigantic projects.
"I planned for the first twist to appear quite early on …"
But back to "Heliosphere 2265". Since the series was to be published as eBooks, it was obvious that old volumes would be available long after the start of the series. Many of you would read maybe six, or twelve or even more books at a stretch. Hence: no filler books, organic cliffhangers (which are prepared), and a fast-paced plot. I planned for the first twist to appear quite early on in the story. Book 3, "Revelations" featured the first big game changer with the next one following close at hand in book 6. I engaged the services of cover artist Arndt Drechsler, who designed amazing cover images and provided the series with its visual identity. Anja Dyck created the character drawings for the novels and together with Daniel Szentes, I created the logo. The series worked – even better over time.
"… how I imagine an adaptation … "
The series' success led to the launch of an audio drama series for "Heliosphere 2265". Planning started early on in December 2013. I flew to Berlin for a meeting with Balthasar von Weymarn (who together with Joachim Redeker acts in dual leadership of Interplanar Productions). We talked about the series, the cosmos and how I imagine an adaptation to be. Shortly after, the journey already begins. The scripts were created, voice artists casted, and the first tracks recorded. So far, we are looking at a quarterly interval. Everything further will hopefully be controlled by the series' success. Since I am a Sci-Fi fan myself and an avid Mark Brandis listener, it was important to me to publish something special. Therefore, the CD comes with a booklet containing exclusive character portraits and additional information material. Also, the data track already includes MP3 files.
"Once more I had to make a decision."
Meanwhile, I was focussing on the next project. Ein MORDs-Team. Five teenagers enter their school in 1984. Only four exit the building alive. Short flashbacks slowly reveal what happened that night, however, the main focus of the story are Mason, Olivia, Randy and Danielle – kids in the present time. They are dragged into the murder case because two of their parents belong to the 1984 group. Hence, they start to solve the murder. Some comic book elements are also included. A wall clock hides the entrance to a secret room. Oswald Kaminski, who laughs like a penguin, is an age-old adversary of the mysterious Count, leader of the gangland (basically Barrington Cove's own Moriarty). Batman fans can definitely interpret a lot into this. So far, all five volumes of the series have been regularly represented in the Amazon charts. In the beginnings, the project was a cooperation between me, Nicole Böhm and Ute Bareiss. Both have now returned to concentrating on their own projects though. Therefore, I am again the sole author of the adventures of Mason, Olivia, Randy and Danielle in Barrington Cove (and the surrounding areas).
 "… Barrington Cove's own Moriarty …"
In 2014 I contributed again to another dime novel series. This time it was Perry Rhodan. I wrote book 8, "Anthurs Ernte" ("Anthur's Harvest"), part of the mini spin-off series Perry Rhodan Stardust.
2015 turned out to be one of the most productive and most successful years so far. "Heliosphere 2265" and "Ein MORDs-Team" became more and more successful, so it became clear early on that they would be published as hardcover collective volumes as well. These would replace the former paperbacks, which weren't available in all the book stores. The audio drama series for Heliosphere was also very successful and I started plans for a third series, which would begin in 2016. "Ein MORDs-Team"'s success also meant that a second case was greenlit. Hence, 2015 ended for me with a big grin on my face.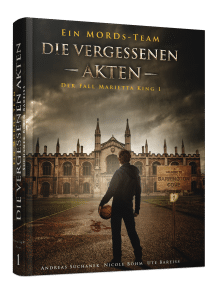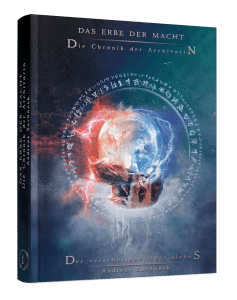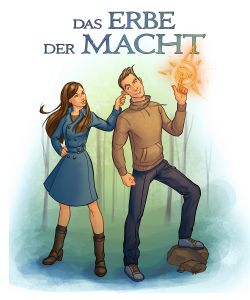 "Jen and Alex – Like Fire and Ice"
Bold as brass and cocky like no other, that is how Alexander Kent started the series "A Legacy of Magic". He and Jennifer Danvers quickly develop an intense love-hate-relationship, but both must stand against Evil together. It all started with the slogan "History as you know it, is a lie!" and we were immediately catapulted to the top of the eBook Bestseller charts. I was beaming with joy – and still am today. Now Heliosphere has almost reached its 50th episode finale and "Ein MORDs-Team" is closing in on the finale of the 2nd case. Alex and Jen have been licensed and the audiobooks will start towards the end of 2018. As you can see, everything is moving very quickly. It is July as I am writing these lines and I cannot wait to see what the rest of this year has in stall for me.
Of course, the Frankfurt Book Fair 2018 is coming up again and I will be at the Greenlight Press booth the whole time. I am looking forward to welcome you there 🙂
So far Alex, Jen, Tilda & Co. have secured Bronze and Silver at the Lovelybooks Reader's Choice Awards 2017 and won the Skoutz Award 2018 in the category "Fantasy". I am curious to see whether – with your help – my brave little series will make the Shortlist and how it will turn out in the end.